Wodonga Middle Years College has a strong commitment to the provision of a high quality instrumental music program. The program provides interested students an opportunity to learn an instrument during school hours and have the ability to participate in a wide range of ensembles.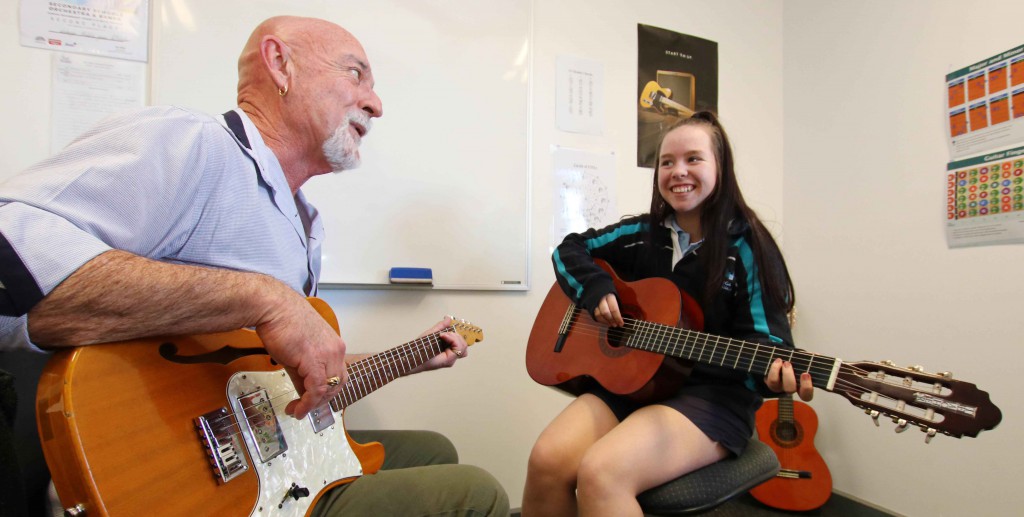 Tuition in the following instruments is offered
Voice
Woodwind – Flute, Clarinet, Alto and Tenor Sax
Brass – Trombone, Trumpet, Euphonium
Guitar
Bass Guitar
Drum Kit/Percussion
Lessons
Students attend a 30-minute lesson once per week. Generally, these are conducted in small groups. Students are withdrawn from normal class lessons and they must ensure that they catch up on work from the missed classes. If a student prefers to have a lesson at lunchtime, before or after school, this is to be discussed with the instrumental teacher and is subject to availability.
Fees
Music levies will include the cost of the hire of an instrument (woodwind and brass), lesson fees, ensemble and band fees, choir fees and music for all musical groups. The music levy will be payable prior to the beginning of each term and is non-refundable. Lessons are Department of Education funded, enabling us to charge a much cheaper tuition rate than external providers.
$50* per term, for continuing Year 7 students
$70* per term, Years 8-12.
*These fees are the equivalent of two lessons from a private teacher outside of school. Therefore, in a 10 week term you receive 8 free lessons.
Year 7
One term of FREE (10 weeks) instrumental tuition will be provided to all interested Year 7 students.
An instrument of the students' choice will be provided free of charge for the duration of one term.
A music tutor (lesson book) will be available for loan from the library and returned at the conclusion of the free term.
At the conclusion of the free term of instrumental tuition, students may choose to continue with instrumental lessons, but will be required to pay the set term fee.

Not included in the fees
Music tutor (lesson books) will be purchased by the student.
Sheet music for individual pieces.
Repairs to damaged instruments. Any instrument damaged through misuse or neglect, or replacement cost of lost instruments will be paid for by parent/guardian.
Groups/Ensembles
Students in an ensemble must attend regular rehearsals and performances throughout the year. Rehearsals are usually during lunchtime or after school. Throughout the year, there will be a number of performances. These could be assemblies, lunchtime concerts, evening concerts, performances at Arts Festival, Eisteddfod, award ceremonies etc.
Once a student is sufficiently proficient on their small instrument, participation in a performance group is compulsory.
Performance groups offered
Beginners' Training Band (all orchestral and percussion students)
Combined Concert Band – year 8-12 (proficient Year 7 students may participate in this band)
Rock Bands
Guitar ensembles
Choir