UPDATE: We will continue with Remote Learning for an additional 7 days, concluding on Tuesday July 27th.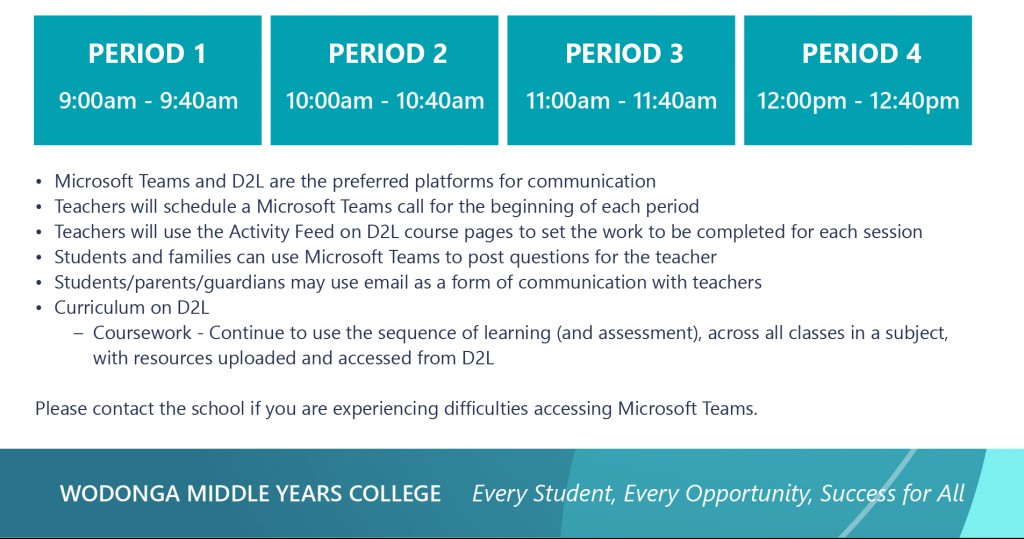 Transition to Flexible and Remote Learning (COVID-19 Restrictions)
We once again thank you for your patience at what has been an incredibly challenging time for families. Your active support will be essential in the success of this new way of learning for your child. Never before has the importance of the three-way partnership of Parents/Guardians, Students and Teachers been more important than now.
To increase physical distancing across the population and slow the spread of coronavirus (COVID-19), children in Victorian government schools will move to remote and flexible learning for an additional  7 days commencing Tuesday 20th July. A change to our timetable period times has been made and is available above.
Eligibility to Attend School
Wodonga Middle Years College will provide on-site supervision for students whose health and safety would be at risk without access to a supervised environment. Click here to download an application form
Process for Student Attendance Onsite at WMYC
By 8.30am Friday 16th July: Parents or carers to provide application form and evidence for required days/times.
School determines the request meets the threshold of the student being on-site.
School to confirm arrangements with parents/carers.
Please note:
To ensure fairness for all students, those who attend will not receive additional tuition to the remote learning program.
Students will need to provide their own food and water bottle as the canteen will not be open.
If you fit into these extremely limited circumstances and have any questions, please ring Gary Hodge (AP Felltimber), Tim Bridgeman (AP Huon) or Marg Leddin (Coordinator FFFCS) on Friday 16th July on 60579000.
Most of our teachers will also be working from home. All of them have been working hard to put curriculum plans in place to ensure continuity of learning and to support the wellbeing of all our students.
Access to Curriculum
WMYC teaching staff will provide meaningful work for all students to engage with the Victorian Curriculum. Classroom teachers are directly responsible for developing online content within D2L and work packs for all students in their class who don't have access to a device or home internet. Considerations will be made in line with each student's current learning data. This work can take the form of online learning, hard copy or a mixture of both. The classroom teacher is responsible for providing the appropriate resources based on communication with home and having a clear understanding as negotiated with the parent/carer of what will best support students when they are at home.
Communication
How effectively we communicate during this process will be critical to ensure student success. The majority of our teaching staff will be working remotely and will share email addresses and Microsoft Teams numbers with families. Staff will be continuing to contact your child and yourself to facilitate teaching and learning, support student health and wellbeing and support student pathways and transitions. The school will continue to operate between the hours of 8.30am-4.30pm, the physical office will not be open. If you would like to contact a teacher, please do so on 0260579000 or call their direct number.
Student to Teacher – During timetabled classes via D2L in the Activity Feed.
Teacher to Student – During timetabled classes between the hours of 8:45am-4:45pm Monday-Wednesday, via the Activity Feed in D2L and until 8.45am-3.40pm Thursday-Friday.
Parent to Teacher – During the hours of 8:45am-4:45pm Monday-Wednesday and 8.45am-3.45pm Thursday-Friday via phone call or email.
Teacher to Parent – Between the hours of 8:45am-4:45pm Monday-Wednesday and 8.45am-3.45pm Thursday-Friday unless arranged otherwise.
Financial Support
We understand that many families will be under additional financial strain. We encourage those facing financial difficulties to contact the College to discuss options available.
Making this transition is understandably going to be challenging for us all. Our staff have put in a huge amount of work to ensure we are as ready as we can possibly be.
We look forward to working with you as we prepare for, and commence, a different way of supporting the wellbeing and learning of every one of our students.
We have included the Remote Learning guide for students, and it is important they are aware of what is expected of them over the next three days.
Thank you for your support during this time.
Vern Hilditch
Executive Principal 
Maree Cribbes
Campus Principal
Student's Acceptable Use of Information Communication and Technology
Students will be required to agree to the following when they logon to D2L:
Through the increased access to digital technologies including, internet, apps, computers and tablets students will be able to appreciate the benefits of remote learning. We are requesting all students when using digital technologies, students behave in a way that is consistent with our College's CARE values.
Student actions which breach the behaviour standards of our College (including cyberbullying, using digital technologies to harass, threaten or intimidate, or viewing/posting/sharing of inappropriate or unlawful content), will result in several consequences which will depend on the severity of the breach and the context of the situation. This includes:
Removal of network access privileges.
Removal of email privileges.
Removal of internet access privileges.
Removal of video conferencing privileges.
Other consequences as outlined in the school's Student Engagement and Bullying Prevention policies.
Referral of any suspected illegal online acts to the relevant law enforcement authority for investigation.
Our commitment is to provide students with the opportunity to benefit from digital technologies to support and enhance learning and development at this time. Remember the CARE values Care for Relationships, Achievement through Aspiration, Respect & Resilience, Engagement.
Contact the College if you would like a copy of the full policy.
Frequently Asked Questions
What if my child needs to access their locker?
All students were asked to take all their belongings home on Thursday. If they were unable to do this, they can attend school, and go straight to their locker on Friday 16th July to collect their belongings. Please ensure that you practice social distancing while doing this
My child doesn't have an iPad, what do I do?
Please contact the school and arrange to borrow one from the library. You will need to sign a lease agreement form.
I have no one to supervise my child for remote learning, I am an essential worker and cannot work from home (or both parents are essential workers and cannot work from home), what do I do?
Your child will be supervised at school to do the home learning. Hand sanitiser will be available. Physical distancing will be implemented, and unwell students will be excluded. There will be a 1:10 ratio. Students will sit alone in class. The school canteen will not be open so students must bring their own food and drinks. Students will be spaced apart for break times. Students will not be permitted to leave the school.
If you fit into these extremely limited circumstances, you must ring Gary Hodge (AP Felltimber) or Tim Bridgeman (AP Huon) to discuss your options on 60579000.
Who is responsible for my child's safety during home learning?
The parent/carer is responsible for students' general safety at home or elsewhere.
How will I know what my child should be doing each day?
Your child will be following their normal school timetable, this is available on D2L. Students will take instruction from their teacher through D2L and will also receive feedback.
Who do I contact if I am concerned about my child's learning?
Contact your child's CARE teacher first. They would have been in contact with you at the end of last Term
I don't know who my child's CARE teacher is, help!
Ask your child, if they don't know, please contact the school.
What do I do if we don't have internet connection at home?
Please contact your CARE teacher and discuss this with them.
What if I would prefer my child to do hard copy work?
You will need to discuss this with your child's individual subject teachers who will be able to provide this work for you.
What if I have wellbeing concerns about my child while they are undertaking remote learning?
Contact your child's CARE teacher or House Leader initially and they will refer you child to the wellbeing team if required.
Students who are already engaged with wellbeing can communicate with their allocated worker during school time by calling the college.
Included in this pack is "Headspace: How to Cope with Stress Related to COVID-19"
The Doctors in Schools program will continue to operate for students of Wodonga Middle Years College. However, appointments will be either by phone or at the Federation Clinic with Dr Jess. To make an appointment with Dr Jess text 0401 264 256 for an appointment, leaving your name, phone number and school.
Always call 000 in an emergency.
What if my child needs support with their iPad or internet connection?
Please contact the college on 0260579000 and we will put you in touch with one of our technicians.