A group of VEX students and two teachers traveled to Adelaide this weekend to compete in the National Robotics Competition.
Year 8 Felltimber students Luke Hanlin and Dimity Roach picked up the Judges Award for their exemplary effort and perseverance at the event. They were competing in the IQ or plastic division of the competition in a field of 50 teams.
Year 9 Huon students Beth French, Gabby Knight, Damon Elliot, Rhea Nicholls, Caleb Chapman, Jack Bonner and Jacob Hawkins were supported by their WSSC Year 11 student mentor Jack Redcliffe and were competing in the EDR or metal division of the competition and were competing  against teams of Year 11 and 12 students.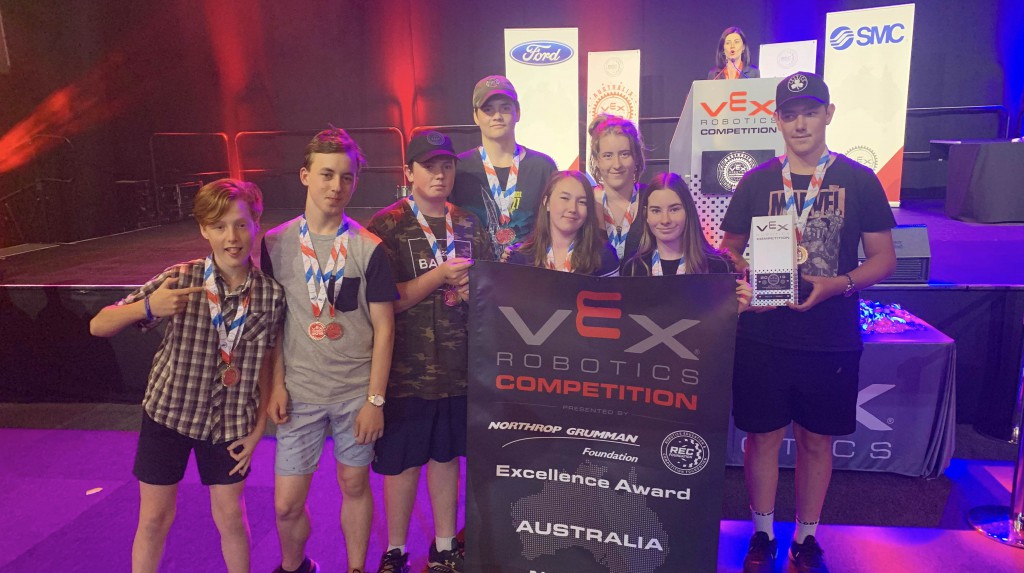 After qualifying in 5th position, they were eliminated in their first qualifying match but went on to win the Excellence Award, which is the highest award presented in the VEX Robotics Competition. The Excellence Award is presented to a team that exemplifies overall excellence in creating a high quality VEX robotics program and is a strong contender in numerous award categories criteria with the key criteria being their Design Award ranking, Tournament Qualification Matches ranking, Robot Skills Challenge ranking and any other judged award rankings. Winning this award has scored this team the right to represent Australia at the Worlds Robotics Championships in Louisville Kentucky, USA in April 2020.